Last Updated: Tuesday, April 15, 2003

April 15, 2003:
I added a new picture section. It only has two pictures right now though. So Pat's official site was supposed to pick the winner of the logo contest on March 31st, but I instant messaged one of the designers and he said they would probably have the winner drawn by the end of that week, but they didn't. He also said they only got a few entries. Oh well. I guess they will post it sometime soon, though I am not sure. Anyway, that's about it. Take care everyone.
God Bless, Kay-Dee

March 31, 2003:
So today's the big day!! I cannot even believe they're picking the logo contest winner today. I can hardly wait to see who won. Congratulations if it's you!! *smile* It also happens to be my brother's 20th birthday, so of course I want to send a "happy birthday" to him. I love you and I miss you, bro. Well, I changed the front page. As you all know, Elizabeth Smart's picture was up there before and well, SHE'S BEEN FOUND ALIVE!! I am so happy. I love you so much, Liz. You rock, girl. I also added a few pictures and will be adding a couple more later today, so that's exciting, right? lol Okay, anyway, take a look around. Take care and God bless!!~*Kay-Dee*

February 13, 2003:
I put another picture up in the "So Weird Pics" section and added a "Maybe It's Me Pic" section, but it only has three pictures right now. OOOOO...they finally put something new on www.PatrickLevis.com!! Check it out if you get a chance. I put new banners for this site in my "Links" section. I was kind of getting bored with the old two, but I totally love the new ones I put up. Check them out for me if you want. :O) I went to www.animationonline.com to make them. Thank you to that site. You rock!! Keep the Patrick pride alive everyone and have a fantastic Valentine's Day tomorrow!!
God Bless,
*Kay-Dee*

January 2, 2003:
They are FINALLY creating an official Patrick Levis site. The site address is:
www.PatrickLevis.com
It should be up soon!!

October 25, 2002:
Hey, hey!! I put a couple new facts in the "Patrick Facts" section. I meant to put them up quite a while ago, but I just never did. Too lazy I think. *LoL* Anyway, I am starting a Patrick Levis zine soon. It will be in e-mail form and it will be sent out once every other week (twice a month in other words). It will include pictures, facts, links, contests, trivia, and more. It is COMPLETELY FREE. If you would like to join, just e-mail me and let me know. :O)
God Bless,
-KD-

August 16, 2002:
Patrick's team really enjoyed the experience of going to Mexico. They had a lot of fun and they learned a lot too. :O)

Here are a couple of pictures from the trip: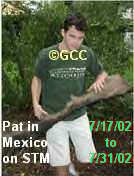 I am not Patrick Levis.

Feel free to e-mail me with any questions you have or anything. I love to hear what you think of my site. Feedback is a WONDERFUL thing...it tells me what you want to see more of and what you want to see less of. It also lets me know how I am doing! So please, e-mail me and let me know what you think! You are welcome to e-mail me just to chat too. =)



E-mail Me!

You can also Instant Message me. If any of you would like to chat with me on IM, my screen-name is GoTTaKiCKiTUp85. =)




Please do NOT use any of the pictures on THIS page without permission. You MAY take them from my picture pages as long as you e-mail me and ask first, just not this first page ("HOME").